Scarefest Group Tickets
Frequently Asked Questions
Below find frequently asked questions about The Darkness, Creepyworld, Lemp Brewery Haunted House, and St Louis Escape rooms located in St. Louis, Missouri near Illinois. If you do not find your question below, simply email us. We'd be happy to answer any questions you have. Make sure you purchase your tickets online you save MONEY and TIME! All questions and answers have been updated for the 2019 Halloween season.
Where are the haunted houses? The Darkness is located downtown next to Soulard Market just one mile from Ball Park Village at 1525 South 8th Street, St Louis, Mo 63104. Creepyworld is located in Fenton off highway 141 just a mile south of Gravois Rd.
1400 S Old Highway 141 Fenton, MO 63026 Lemp Haunted House is located at 3500 Lemp Avenue just 1 mile from Darkness off South Broadway.
What is the minimum number of tickets that are required for group discount purchase? Group orders consist of 20 or more tickets.
What are the prices for group tickets? Go to the ticket webpages of either Darkness, Lemp or Creepyworld to find price options for group tickets. Buy online NOW CLICK HERE
How can I pay for tickets? You can purchase your tickets on location at the ticket booth with credit cards or cash. Or you can pay online using a major credit card (recommended). CLICK HERE TO BUY NOW SAVE MONEY AND TIME
How do I know my order is confirmed if I purchase online? When buying tickets online you will receive tickets by email. We can printed tickets or tickets on your phone.



Why can't I use your online coupon with online ticket purchase? Coupons are only good when buying tickets at the box office. Tickets online are already discounted and save you time. If you download a ticket simply bring one per person to the box office. Coupons are good any night in September, November or weekdays in October. JOIN OUR FACEBOOK PAGE we sometimes offer PROMO CODES that can be used online. CLICK HERE TO LIKE US ON FACEBOOK
What is the benefit to buying tickets online? You will save time at the attraction. The longest lines are to buy tickets. Once you purchase online you go straight into the line to enter skipping the ticketing line. We can your phone or printed ticket. Do not wait in ticketing line. Keep in mind when you buy a ticket online your tickets are good ANY NIGHT we're open.
When will I receive my tickets? If you order online, you will print your tickets from home immediately after completing your order purchase. If you buy them at our ticket window box office, you will be given tickets at that time. WE ENCOURAGE EVERYONE TO BUY ONLINE!
Do we pay to park? Parking at The Darkness is free. You can park anywhere in Soulard public parking areas. Lemp has a massive gated parking lot. For a fund-raising organization, a minimal $5.00 parking CreepyWorld. Additionally make sure you leave valuables at home. DO NOT LEAVE valuables in the front seat of your car.

Can we Book your event for a Private Party: Great question because yes you can. There are two ways to do this. Darkness can host one private party per day complete with fast passes to the haunts, use of our horror party room, free pinball, 3 minute escape, photo ops and so much more. Learn more about this CLICK HERE. Additionally any of the three haunts Darkness, Creepyworld, Lemp plus St Louis Escape can be totally booked out on days we're not open to the public. In other words if Creepyworld isn't open on a Tuesday and you have a group of several hundred we can open just for your company. Email us here for details: info@scarefest.com


Are your attractions open if it rains? Absolutely! The Darkness is located inside a huge warehouse with indoor queue lines to keep people out of the rain. Lemp is totally indoors and also has an indoor que line. The CreepyWorld attraction is partially indoors and partially outdoors with a massive covered waiting area. Creepyworld may close on weekdays if it rains. Any change in plans are posted on the front page blog.




Are your attractions handicap accessible? They are NOT handicap accessible. The crowds can limit the accessibility and safety of handicapped individuals, so it is NOT recommended. Creepyworld is very difficult for handicapped individuals because or the outdoor terrain and the outdoor nature of the attraction. Unwanted wear and tear can and will result on wheelchairs and/or other assisting devices, and therefore not recommended. If you have a broken leg or other prior injuries or prior medical conditions, you should not enter the attractions. THE DARKNESS is by far the most accessible however its an old building you have to go up several steps, there is an elevator that can take you to the second floor however the Darkness features uneven and tilting floors, tight corners, and other obstacles. We can however arrange for PRIVATE TOURS for wheelchair guests to see the haunted houses. Understand with hundreds of people in the attractions, and very difficult situations it creates a very tough situation for anyone in a wheelchair. WE DO NOT SUGGEST you bring guests in wheelchairs. Again if you want to make special arrangements we'd be happy to escort wheelchair customers thru in non-operational hours at Darkness only. Lemp is underground you would need to take an elevator down and then backtrack to the start.
How long does it take to go through? It depends on how fast you travel through the maze. The Darkness has many visuals and a long, dark confusing maze. Creepy World features 13 different haunted houses so it will take the longest. Each attraction is over 50,000 square feet and can easily take up to one hour. We suggest you take your time for maximum fun and excitement to ensure you see everything available. Est. Time: Darkness 60 minutes. Creepyworld 90 minutes. Estimated time may or may not include wait times. Lemp has been totally renovated and is now longer than ever before. Lemp takes about 35 minutes.

What's the main difference between each place and which one is the best? The Darkness has over 200 animations and awesome scenes and sets. CreepyWorld features 13 haunted attractions for one price including a hayride and a midway. Lemp is undergound in real caves and was totally renovated. But a combo ticket and go to all attractions its cheaper.
The Darkness is by far the best in detail, set design, animations and more. Creepyworld is the longest and largest with the most attractions; plus it's outside which gives you a different and very authentic haunt experience. Lemp is the scariest location. You can save money by purchasing a combo pass which allows you to visit both attractions at your convenience any night(s) throughout the season.
Do your attractions have security? YES!
Can we be thrown out of the park for any reason? Yes. We do not allow foul language, pushing, vulgar behavior, weapons of any kind, smoking, drugs, alcohol, etc. We have a list of rules that must be adhered to for your own safety and the safety of the other guests. Violation of these rules will usually bring a warning. However, you may be asked to leave. It is in your best interest to behave accordingly, as there are no refunds.


Can we be injured at your park? We've never had any serious injuries at any of our attractions in nearly 30 years of operation. Running is the main cause of minor injuries. Make sure to follow the rules, specifically don't run and you'll be fine. Follow all the rules and do not stray from the main paths. YOU MUST READ the WARNING page before you enter the attractions. The WARNING signs are also displayed at each attraction. DO NOT ATTEND if you have medical conditions that might cause you an injury... DO NOT enter our attractions if you are prone to seizers or if you have ANY kind of respiratory conditions, especially asthma, heart conditions. Do not enter if you have broken bones, casts or are pregnant. Again, you must read and understand our warning signs before considering entry into our events. Almost all injuries that do occur are a result from the customer running and they run into one of our actors, a wall, or run and fall down. DO NOT RUN! Also DO NOT TOUCH props this may also result in an injury. DO NOT RUN UP AND DOWN STAIRS. But above all do NOT attend our attractions if you suffer from various different pre-existing medical conditions. Enter at own risk. Not responsible for any injury.
Do you serve alcoholic beverages? No. And you're not allowed to bring them on any of our properties.
Can we take flash photos of your haunted houses? Yes and No. Haunted houses are dark and everyone, especially the actors, get adjusted to the low light. When you flash your camera, you're not only ruining other customers' experience but your hurting the actors'/customers' eyes. HOWEVER you're allowed to take any photos or videos without a flash. Our que lines have several monsters who will take pictures with you. You can take all the photos you want inside the haunted houses without a FLASH! Outside the haunted houses we have photo ops set up and you're free to use your flash.


What can't we bring with us to your haunted houses? No pets. No weapons. No alcoholic beverages. No drugs. No cigarettes. No costumes. No cameras. It is also recommended to leave your valuables at home, like cell phones, purses, loose jewelry and more. We do not stop production to search for lost or missing items. All lost or missing items will be searched for after the close of business. We are not liable for lost or missing items. Additionally DO NOT LEAVE valuables in your cars.
Will the actors touch us? No. Our actors are trained not to touch any customer for any reason. You will not be grabbed or touched by any actors unless it's by accident, which does happen. We also ask that you DO NOT touch our actors or any staff members as well as the props and sets. Warning it's possible one of our actors might touch you or another customer might touch you. You're taking that risk upon entry. If you feel you have been touched without consent please inform our management.
Do you sell food, beverages and souvenirs at your attractions? Yes. We sell everything from glow sticks to food to t-shirts and hoodie. The Darkness features a massive retail store which features mugs, puzzles, t-shirts, jackets to horror movie stuff and everything between. The store is operated at the exit of The Darkness. Creepyworld has food trucks and sells donuts.
What time does the haunted house usually open? On October weekends we try to open as early as 6pm to 7pm. On weekdays we open later and in September we open later, simply because it's still light outside. Please refer to the times and dates page of our website.
Are our cars safe in your parking lot? We have had cars broken into like any other place in America. We have NEVER had a car stolen, or broken into where someone didn't leave a purse or something very valuable in the front seat. In almost every case a car has been broken into someone has left a purse in the front seat. When attending our attractions DO NOT UNDER ANY CIRCUMSTANCES leave ANYTHING valuable in your car. Please do NOT bring anything with you or put everything in your trunk. We have parking lot attendants at Creepyworld and at Darkness. We do watch the cars as best we can. At Darkness you park all throughout Soulard and we supply a Police officer who drives around watching cars. DO NOT LEAVE VALUABLES IN YOUR CAR! We are NOT responsible for any lost valuables or if your car is broken into.



How old does a child need to be and or is it okay for younger kids? We have no age restrictions so long as the child is (a) accompanied by adult supervision, and (b) wants to go through on his/her own will with no one forcing him/her through. All kids are different. If you think your children will enjoy the scares, then bring them down. Please use appropriate judgment, and remember there are no refunds.

Do your haunts have upgrade attractions? YES we do. The Darkness has St Louis Escape Rooms, Zombie Haunt, and a 3 Minute Escape Rooms. Creepyworld has a haunted midway with games and escapes and a massive haunted hayride.
Can you tell me about St. Louis' hotels and attractions? Yes visit our LOCAL ATTRACTIONS TOURIST page of the website for helpful information. VISIT THIS PAGE TO LEARN ABOUT HOTELS AND OTHER TOURIST ATTACKS CLICK HERE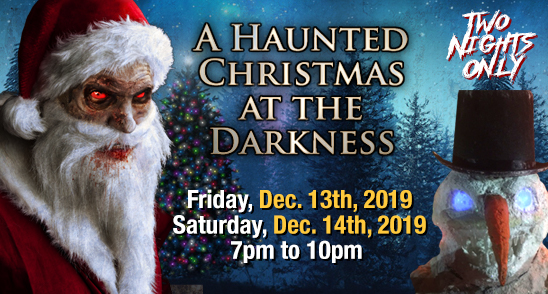 We are from the media and need to contact you about stories or articles. Contact us at info@scarefest.com You also can visit www.explorestlouis.com to plan a great getaway to St. Louis. We have also listed over 100 other things to do in St. Louis on our Tourist page. CLICK HERE
Can I get more information about Scarefest group tickets and St. Louis travel information via e-mail? Yes, just send an e-mail to info@scarefest.comwith "Scarefest" in the header. Include your e-mail address and any pertinent information about media requests.

Could we be filmed while inside your haunted houses? YES, we make videos all the time for the promotion of our haunted houses. Additionally we have a security system that films everything. Lastly we are also on national TV shows all the time so yes you can be filmed. By entering the haunted houses are you agreeing to allow your image to be used.




How far apart are Creepyworld and Darkness or Darkness and Lemp And Should we buy combo tickets? The most common question actually is can we make both (Darkness, Lemp and Creepyworld) attractions in the same night. Yes you can these attractions are only 16 miles apart roughly or about 15 to 20 minutes. Lemp and Darkness are about 1 mile apart. If you want to make all three attractions in the same night we strongly advice to arrive at Creepyworld first and show up when we open because darkness and lemp are only 1 mile apart. Otherwise if you buy a combo ticket you can use the tickets on different nights or any night you want.

Do we give refunds? No we do not. You can however gift your tickets to anyone you want. In other words if you can't make it then simply give the tickets to someone you know. You're allowed to transfer tickets to someone else.

Can we Wear Costumes or Masks: NO! We can't have our customers thinking you're one of our staff. No costumes and no masks allowed into the attractions.




Are Animals allowed into attractions? NO!

Are there any restrictions to go into your mazes? YES! Are you medically sensitive to fog? Don't come! We use strobe lights! Do you have a fear of enclosed spaces? Are you an expectant mother? Do you have any type of heart condition, abnormal blood pressure, sensitive to loud noises, sudden movement, heart conditions, broken bones, or simply not physically fit? DO NOT ATTEND our attraction. You enter at your own risk! Not responsible for any injury.

How Does the Fast Pass Work: Let's start with Darkness. A fast pass gets you to the front of the outdoor line not the indoor line. The indoor que line of The Darkness is all-new and is part of the attraction experience now. At Creepyworld the fast pass only gains you access to the front of the main first attraction which is by far the longest. Fast passes will save you up to one hour of time. Lemp you skip the outside main line.

What are the Best Nights to Visit? WOW SOMEONE actually asked this question? We have a great answer... please visit our attractions any night in September or November or weekdays Sunday thru Thursday. The first weekend in October isn't very busy either. Many people think Halloween would be slammed but its NOT! So in short come any weekend in November or September, first weekend in October or any weeknight. If you come any of these nights we put guests thru SLOWER and wait times are much shorter. PLEASE come on these nights.


Do you change the attractions from one year to the next? YES we spend hundreds of thousands of dollars every year to add the latest and best screams, new attractions, and things to entertain our guests. Every year we add new haunts to Creepyworld and in 2019 we totally gutted Lemp and rebuilt the entire attraction. Darkness always gets new amazing screams!

What is the difference between your attractions and say other haunts or Six Flags? Another great question. There is no comparison between other local haunts and Darkness, Lemp or Creepyworld. Amusement Park haunts from our perspective has very basic haunt mazes, with a bigger focus on their rides. Other local attractions are more than likely very low budget. The Darkness, Lemp and Creepyworld are considered three of the best 25 haunted attractions in the entire WORLD! The Darkness by most haunted attraction industry experts is listed as the #1 haunted house in the America. Haunt owners, Amusement Park operators from AROUND the WORLD have visited our attractions. Our company has also built haunted houses for nearly every theme park in America. Trust us there is no comparison! LOL
WHERE CAN YOU FIND HAUNTED HOUSES NATIONWIDE? go to www.Hauntworld.com


FREQUENTLY ASKED QUESTIONS ABOUT OUR ESCAPE GAMES



Frequently Asked Questions about Escape Rooms



Escape Rooms

Q: Do we really get locked in a room.

A: Yes but the entrance of the escape rooms is ALWAYS unlocked so if you must exit you simply come right back out the way you came in. The goal of the game is to proceed forward by escaping each room to the final door. If you get out of the escape room before 60 minutes you win.

Q: Can we book a room just for our friends?

A: Yes but you need at least groups of 8 or more. Otherwise you can book the rooms first come first serve. If you and two friends sign up you could be playing with people you do not know. You can book the rooms 100% by buying out the hour.

Q: Why are our escape rooms the best in St Louis.
A: Easy one. All other escape rooms in St Louis are poorly detailed, typically are just one single room, no electronic puzzles or special FX. Most if not ALL of the local escape rooms offer a theme but the rooms themselves do not give you the impact of that theme. When you visit our rooms they are filled with amazing detail, special FX, complicated puzzles and much more. Our escape rooms have been toured by escape room owners across the nation and we've been quoted as the best escape rooms in America. Our company not only operates escape rooms here in St Louis but builds them across the World for clients everywhere. Trust us there is NO comparison between OUR escape rooms and ANY of the others in the market.

Q: Can you explain the parking situation?

A: We own the entire street in front of our building. You can park on the street directly in front of our building or on the side of our building. The escape rooms are located in the building directly attached to The Darkness haunted house. Parking is free and again park directly in front of our building. DO NOT LEAVE ANYTHING VALUABLE IN YOUR CAR. WE HAVE INDOOR LOCKERS so just bring in everything.

Q: Are weapons allowed inside the escape rooms.

A: NO and do not bring any with you.

Q: Do you offer bathrooms?
A: Yes we have both a female and male bathrooms in our escape room lobby.
Q: Where do you wait to play and how early can we arrive.
A: Each game is booked by the hour. If you are scheduled to play at say 5pm be our guest and arrive 30 to 45 minutes early. We have a giant lobby filled with tables, chairs and booths. Additionally we have tons of board games you can play with your friends while you wait. We also have pinball games, air hockey and we sell soda, juices and snacks.

Q: Are the rooms SCARY?

A: The themes of our escape rooms are cellar escape, subway escape, and Mummy escape. The Mummy theme is more like Indiana Jones adventure so no not scary. The Subway theme puts you on a runaway subway car that is set to explode once it reaches the city. You must stop the train then defuse the bomb. The subway escape is more like Speed or Die Hard not scary. The Cellar escape features a serial killer theme and although there are some dead bodies inside there are no actors and nothing that jumps out at you. We do not feel its scary but out of the three the cellar is the scariest. The Haunted Hotel is full of ghosts and special effects but its not scary.

Q: Must I sign a waiver form before playing?

A: No but we are NOT responsible for ANY injury. You play at your OWN RISK! If for any reason you feel sick, or need medical attention simply walk out of the escape room and come back to the lobby or have someone from your group offer you assistance. No one should get hurt however we are not responsible for anything that happens. You must fill out the waiver online or before you play at the location.

Q: Is there an age limit?

A: NO however we do not suggest the game for anyone under the age of 12. Each player under the age of 18 must have their parents sign a waiver on their behalf.

Q: Are walk ins welcome?

A: YES! However you can only walk in during times we're there in other words if there is another booking. No one is at the escape rooms when there are no bookings.

Q: Can I book the entire facility for private parties or times not listed on your website?

A: Yes you can. Contact us directly at info@stlouisescape.com

Q: If we reserve the room and can't make it do you allow refunds?

A: NO once the room is reserved for your group its final. You can however transfer your booking to a group of friends, co-workers, etc.

Q: How much does it cost per person?

A: $25.00 per person.

Q: Can I pay cash on site?

A: YES! All games are booked online via our website however we do accept walk ups and take cash or credit cards.

Q: Can We book the entire room?
A: Each escape room hold 8 to 12 people. If you want the entire room for your group, you must book at least 8 spots. No group can play with less than 4 players.

Q: Are Children allowed?

A: Yes but we suggest an adult attend with them Adults must purchase the tickets and play the game with any and all minors at all time.

Q: Are the lights turned off?

A: NO

Q: Why would we want to do this with our company parties, friends or family?

A: This is the ultimate team building / team work type of attraction. Our rooms are totally different than any other in the area. Our escape rooms are multiple room attractions, with amazing detail and electronic clues and puzzles. We also feature an amazing lobby filled with board games and more. The rooms are NOT scary, no actors, nothing jumping out at you... just prepare to have a great time.

Q: How far in advance should we book?

A: We recommend booking as far in advance as possible. Our rooms will be the talk of St Louis once the open and will sell out often. If you have a certain date in mind book now.

Q: If we only have two or three people in our group will we be placed with strangers?

A: The Subway escape requires no less than 5 people to play so yes. If you choose to play Mummy or Cellar with less than 6 players you will need to book the entire room. No matter if you book with friends mixed with some strangers you'll have a great time. The rooms are booked a room you must have at least 6 people.

Q: Do I need to wear anything special?

A: Nope wear whatever you want. However we do suggest you don't wear heals or big looping jewelry. In fact come casual wearing tennis shoes and a t-shirt. The Mummy adventure is filled with sand the entire floor nothing but sand. Remember it is Egypt! So again come casual.

Q: Where is the entrance? Where do we park?

A: Good question... do you know where The Darkness is located? The Darkness is actually in building 1525 South 8th Street and St Louis Escape is located in the attached building at 1517. So to be exact its the building next door to The Darkness. You simply look for the door with the Escape St Louis sign on it... open it and GO UPSTAIRS! Zombie laser tag and St Louis Escape are on the second floor of the building. Where to park? Okay... you can park directly in front of the building or any where in the street or circle of the dead end of the street. Hopefully this makes sense but the street is a dead end road its not thru traffic so park along the side of the on ramp which is directly in front of the building.





Q: Are your attractions handicapped accessible?

A: Great question. The entire attraction is on a second floor so not easy to get to for anyone in a wheelchair. The Mummy attraction is totally themed with a sand floor. However if you don't mind going up a couple steps to get inside the building we have an elevator that will take you to the second floor. You have to go thru the Darkness and from there we'll take you to the second floor and then into the escape rooms. Its not very hard if you don't mind a few steps. The games themselves are another story. The Mummy Adventure has a sand floor if you don't mind that its fully accessible however the sand would make it very difficult for the wheelchair to move around but not impossible. The finally room in the Mummy escape is totally impossible to pass with a wheelchair so guests would have to exit thru the entrance. The Cellar escape is totally accessible with the exception of one small part you would have to bypass. We have created a bypass for handicap. You could NOT enter the secret hallway which you must crawl into... wheelchair guests would only miss a small part. The Subway escape has a moving subway car and is by far the most difficult of the three games to play if you are confined to a wheelchair. The Subway also features steps down from the subway making it nearly impossible. Out of the three Mummy you couldn't see the final room and serial killer you'd miss one hallway.

Q: Do we need any special puzzle solving skills to play your games?

A: NOPE! You just have to be willing to work as a team to solve puzzles, find things through out the rooms and keep moving in the right direction. Your game master will also help you if you really need it.

Q: What if we show up late?

A: We ask all of our guests to arrive 15-20 minutes early. We will do our best to get you into the game if you show up late however remember the games start right on time with no refunds.

Q: Do you have any tips for playing the games?

A: Yes!!! Not everything is a clue and some items may seem to be clues but are not. Work as a team. Bring paper and a pen so you can write down notes. All of our escape rooms consists of three to five rooms each. In other words almost all other escape rooms are simply one big room, where as our rooms have several you break into and discover. One clue here is that you may get to the end but need to locate something back in the first room to escape. In other words just because you've escaped the first room doesn't mean you may or may not need to back track to crack the room.

No climbing every clue is within standing reach. Be gentle nothing requires brute force.

Q: DO you have lockers inside to lock up our valuables? YES WE DO! You can lock up your purses, phones and more.

Q: Do you change your escape rooms? YES in fact we just finished a total renovation of the Mummy and Cellar recently. Always adding new puzzles, twists and turns.


Ticket Prices are $25.00 Per Person: Teams consist of 4-12 people. If less than 4 people are booked additional players may be added to your group. To ensure you reserve the room all to yourself book at least 8 spots. You must book 90 minutes in advance. For larger groups, parties, corporate events please email us at info@stlouisescape.com



ZOMBIE LASER TAG (NOT OPENING IN 2019 will be back in 2020)

Q: How many does it take to play a game.

A: We can send groups in as small as one person. We prefer that you have a group of 4 to 6 people

Q: Is zombie laser tag scary or too scary for kids?

A: It's slightly scary as there are zombies running around however you have a laser gun so shoot them!

Q: Can we book out the zombie laser tag experience on nights you are NOT open?

A: YES email us at info@scarefest.com

Q: Are their any risks of injury?

A: People get pretty excited and they do run so yeah anything could happen. You must sign a waiver before playing the game. You enter at your own risk. We do use sudden noises, strobe lights, live actors, and more. We do NOT suggest this game for people with pre-existing health problems such as breathing issues, prone to seizers, heart issues, etc. You are entering at your own risk and play at your own risk. TRY NOT TO RUN this will avoid the most common injury which is running into another player or falling down.

Q: Do we use fog and strobe lights?
A: Yes we use both. The fog is used very little. Strobe lights are spread thru out the attraction.

Q: What is the difference between zombie laser tag and Silo-X Haunted House

A: Great question! Zombie Laser Tag can NOT handle the crowds we handle during the weekends for the haunted house. We have chosen to ONLY offer Zombie laser tag on weekdays and a zombie themed haunted house on weekends. The difference is simple... Silo-X Haunted House is an incredible zombie themed haunted house where the zombies are trying to scare you while the Zombie laser tag you hunt and kill the zombies. In other words one is a traditional zombie themed haunted house while the laser tag is a game. So weekends you come ready to SCREAM and weekdays you get to suit up and shoot to kill real zombies with our laser tag system.

IF YOU HAVE ANY OTHER QUESTIONS PLEASE EMAIL US

MUMMY ADVENTURE PREVIEW