---
Are you ready to experience the best haunted house in America? How deep into the depths of The Darkness can you take before your next breath is your last? The all new Darkness Haunted House, located in Soulard, off South Broadway in downtown St. Louis, Missouri, has been rated as America's BEST haunted house. Missouri haunted houses have become known for Halloween and none more than the KING of scream: The Darkness Haunted House. In 2018 The Darkness haunted house celebrates its 25th Year of Fear! Prepare to Scream!
---


The Darkness is not like any other haunted house you've ever experienced.
For the 25th Year of Fear the best haunted house in America has pulled out all the screams!
The Darkness was totally renovated, expanded to includes several new attractions.
In 2018 The Darkness features the two floor Darkness, Terror VIsions 3D,
Monster Museum, 3 Minute Escape Room, St Louis Escape next door, The Hive Zombie Experience and Zombie Laser Tag. The Darkness will also open for special events such as Krampus Haunted Christmas in December, Valentines Bloody Date Night in February, and Blackout go thru the Darkness in the dark in November.

The Darkness has been haunting St. Louis, Missouri since 1994, making this our 25th year of fear. Next door to the Darkness is the totally renovated St Louis Escape Rooms. (www.stlouisescape.com) open every night! When you visit The Darkness spend an entire day with us, grab your friends and SCREAM together!
The Darkness is now a mega Halloween event for horror fans across the World.

So what's new at The Darkness for 2018 the 25th Year of Fear!
We created the ULTIMATE ENDING to The Darkness a damp, cold, creepy sewer system.
Travel thru this creepy sewer and encounter the massive spider-clown Penny looking to swallow your soul. The new section inside The Darkness
was the biggest new scene we've ever created. We also totally renovated Terror Visions with new sets, scenes, and special fx.
Also new is The Hive a zombie themed experience where you attempt to survive a zombie apocalypse.



This is the biggest year of fear for The Darkness! Grab your friends and SCREAM WITH US in 2018.


Also next door to The Darkness is THE HIVE a LIVE Zombie Experience where you come face to face with the WALKING DEAD.
Try your best to stay alive and survive a zombie apocalypse. ONLY $5.00 extra with purchase of The Darkness.



Next door to The Darkness we have St Louis Escape which features four different escape rooms including Subway, Mummy, Cellar, and the all-new Haunted Hotel. Our Escape Rooms are better in every way than other Escape Rooms around St Louis because they include electronic puzzles, interactive animations, and the most amazing detail. Each of our World Class escape rooms have been totally updated with new clues and puzzles. Learn more about and book the Escape Rooms at www.StLouisEscape.com



The Darkness is known for one of the best haunted houses in the Nation but it's also know
for having the World's Best 3D Blacklight Haunted House Terror Visions. To celebrate our
25th Year of Fear we've gutted nearly half of Terror Visions and added new scenes, animations,
special fx, and scenes. The Darkness will have more than one clown looking to make you scream in 2018.

The Darkness is the scariest haunted house in America and now offers a NEW outdoor SCARE ZONE. NO MORE WAITING IN LINE WITHOUT SCREAMING we'll haunt you from the que line all the way back to your car monsters lurk everywhere! This year the horror starts the moment you enter the line to get inside America's best haunted house. Also new this year are massive outdoor photo opportunities. Jump out of line and take pictures with monsters to share on social media. Outside The Darkness are sliders, zombies, chainsaws and giant monsters. Bring your camera!

WATCH THIS VIDEO. THE ENTIRE HAUNTED HOUSE INDUSTRY VISITED THE DARKNESS
MARCH OF 2018 TO SEE THE ALL NEW DARKNESS. GO BEHIND THE SCREAMS AND SEE
WHATS NEW AT DARKNESS 2018.


---
If you survive the all new Darkness, the fear doesn't end. Now, you must face your worst visions of terror inside Terror Visions 3D Haunted House. Terror Visions is THE BEST 3D haunted attraction ever! The clowns are back and more vicious than ever. Your visit into The Darkness starts with two floors of sheer terror, then thru Terror Visions, Monster Museum, 3 Minutes Escape, Zombie Laser Tag, The Hive haunted house and monsters lurking outside. Can your heart take the fear?

Our Monster Museum which now features a larger than life sized replica of the Exorcist, The Shape from Halloween to a several SOCIAL MEDIA PHOTO OPPORTUNITIES! The monster museum now offers 3D Photos for sale. Another new features to our Monster Museum is a new OPERATION GAME which allows you to attempt an operation on a zombie mess up and he'll attack you (FILM YOUR FRIENDS WHILE PLAYING AND SHARE THEIR SCREAMS) Also featured inside the Monster Museum is tour Gift Shop filled Horror T-Shirts and more. Inside our Monster Museum you'll find the scariest escape room on earth. Up to 5 players are locked inside a death chamber with only 3 minutes to escape. This escape room is SCARY and INTENSE.

---

TO LEARN MORE ABOUT TERROR VISIONS CLICK HERE

TO LEARN MORE ABOUT THE HIVE ZOMBIE EXPERIENCE CLICK HERE

TO LEARN MORE ABOUT MONSTER MUSEUM - 3 MINUTE ESCAPE and GIFT STORE CLICK HERE

WATCH PEOPLE SCREAM INSIDE THE DARKNESS 2017




LIST OF SPECIAL EVENTS AT THE DARKNESS 2018

UNLIMITED ZOMBIE LASER TAG TWO NIGHTS ONLY
Wednesday October 10th and 17th 7 - 10 pm $20.00






BLACK OUT NIGHT GO THRU WITH A GLOW STICK
November 10th 7 to 10 pm







Krampus Haunted Christmas One Night Only December 15, 2018 7 to 10 pm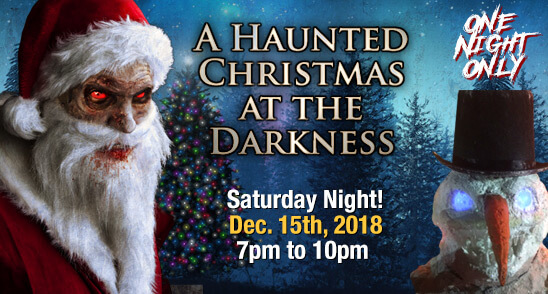 Final Event Valentines Bloody Date Night Two Nights Only







ST LOUIS ESCAPE Open every night book now www.stlouisescape.com

St Louis Escape is located downtown next door to The Darkness Haunted House.
St Louis Escape features four different escape rooms and are considered four of the best escape rooms in America.