TERROR VISIONS is one of America's first 3D haunted houses ever created and is now regarded as the best 3D haunted house in America. Terror Visions is a 3D haunted house in St. Louis, Missouri located inside THE DARKNESS, one of the best haunted attractions in the World. The Darkness Haunted House is a two story haunted house filled with Hollywood quality sets, animations & special effects, located in downtown St. Louis, Missouri.

Terror Visions 2018 has been totally renovated with crazed clowns flying down from the ceiling, clowns blowing up guests with TNT,
new special fx, animations, and crazed circus animals ready to devour your soul.






Terror Visions 3D in 2018 will be the scariest yet with more crazy 3D Special FX and more caged clowns than ever before. Terror Visions in 3D 2018 will feature several new scenes, screams, special FX, animations and more live clowns than ever before. Terror Visions 3D is FREE with your purchase of a ticket to The Darkness.

---

Terror Visions 3D Haunted House has been toured multiple times by owners of haunted houses nationwide and around the country and has been hailed as the best 3D haunted house in the industry. Are you ready to experience freaky crazed clowns, in a 3D environment where the walls appear to be moving, floors are floating and everything is right in your face? Your worst visions of terror are inside the World's best 3D Haunted House, Terror Visions in 3D, inside The Darkness Haunted House.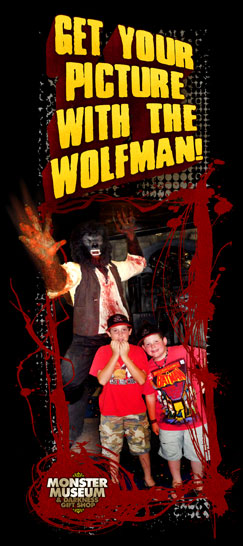 ---
In 2018, we added tons of new monsters, autographs, and a full sized The Shape from Halloween and Freddy Kruger is now on display now, inside The Monster Museum at The Darkness. Other new displays include Linda Blair Exorcist, and the Grinch who Stole Christmas. Guests can use their cameras/phones to take action pictures with this amazing, larger-than-life sized prop! Make sure you grab our new 2018 Darkness T-Shirts and other collectables.

OPENING OCTOBER 2018: 3 Minute Escape Horror Themed Escape Room. $5.00 This will be an intense horror escape experience.



---
The Monster Museum also includes a horror gift store where you can also purchase Darkness souvenir t-shirts, horror toys, collectibles, games, movies and more. When you come to The Darkness Haunted House, you get to tour one of the best haunted houses in America and simply the best 3D haunted house in the World, plus The Monster Museum for added fun! New to Gift Store includes Darkness 20th anniversary mugs, jackets, t-shirts, and even a 500 piece puzzle. Everything can be found at the exit of the all New Darkness gift store. Bring your camera for all the social media photo ops.





IT DOESN'T SCARE THESE CLOWNS 2017





IN 2018 AT THE BACK OF THE DARKNESS YOU CAN TAKE YOUR PHOTO IN FRONT OF A GREEN SCREEN. ONCE WE HAVE YOUR PICTURE WE WILL CREATE A 3D PHOTO FOR YOU WITH A COOL BACKGROUND. SEE THE EXAMPLE BELOW. PICTURES ARE $10.00 EACH. We take your photo and your body ends up in the witches pot. Awesome 3D photos only available at The Darkness.