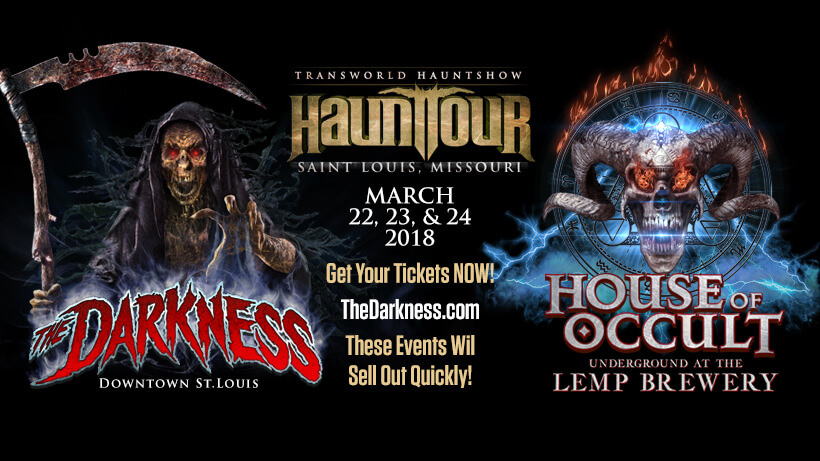 The Darkness Haunted House Tour is BACK and BIGGER than ever! The tour is now includes the all-new House of Occult underground at Lemp Brewery! Haunted House owners wanted a return to the Lemp Brewery so we've decided to remodel The Lemp Brewery haunted house and add it to the tour. Let us break down the tour options for the haunted house industry and what will be new in 2018. Get tickets NOW at hauntedhousetour.fearticket.com or book escape rooms now at www.StLouisEscape.com
Below find the dates for each event. Please keep in mind the times for each event. If you visit the behind the scenes tour keep in mind you must FIRST GO TO LEMP BREWERY 3500 Lemp Avenue down the street from Darkness. Lemp tour opens first and closes first. Once you leave Lemp head over to The Darkness. Once at The Darkness you must enter Silo-X and Escape Rooms FIRST! The Escape Rooms will re-open at 9 pm for bookings. St Louis Escape and Silo-X are located next door to The Darkness. You will enter the Darkness LAST!
If you visit The Darkness for our live actors event you must enter Silo-X first! You will enter the Darkness last. Silo-X will close before Darkness. You will line up to enter Silo-X upon leaving the back of the building, come back around front and enter The Darkness. Keep in mind if you want to go thru The Darkness and book escape rooms in the same night you can do that. Furthermore you can book our 3 Minute Escape but that will only be available to play ONE NIGHT ONLY (Saturday) and limited to the first 100 people.
March 22, 2018 (Thursday) - Behind the Scenes Tour
of Darkness, Silo-X, Terror Visions, St Louis Escape, and Lemp Brewery Haunted House. For one price you can go behind the scenes, take photos, video and more of the all-new Darkness Haunted house and even all of our Escape Rooms. Tours should start at Lemp Brewery 7pm from there you will head over to The Darkness where tours start at 7:30. This event is limited to the first 375 guests. This will totally SELL OUT!

March 23, 2018 (Friday) - Lemp Brewery Haunted House
with LIVE ACTORS 7pm until 9pm. Limited to the first 500 guests. Event will sell out.

Zombie Laser Tag Expertise
inside Silo-X next door to Darkness from 8 to 9:30pm.



March 24, 2018 (Saturday) - The Darkness with live actors

.
Experience Darkness, Terror Visions and Silo-X with live actors all for one price.
Event starts at 7 pm until 9:30 tickets are limited to the first 800 guests.

GET TICKETS NOW AT http://HauntedHouseTour.FearTicket.com

Tickets are cheaper if bought sooner than later. Ticket prices rise closer to the event. St Louis Escape was nearly booked out last year. Book now and use promo code to save 15%. Promo code will end soon. Book Escape Rooms at www.StLouisEscape.com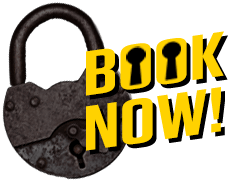 WATCH A VIDEO OF LAST YEARS TOUR BELOW: