Escape Room Games Transworld Escape Room Tour 2018

St Louis Escape Rooms:
Located next door to The Darkness is St Louis Escape. We have also totally renovated our Mummy Escape Room to include new sets, rooms, special FX, CGI FX, and much more. Our Haunted Hotel Escape is finally complete and all four escape rooms will be available to book for the haunt industry from 10 am until Midnight with a discount code saving you 20%. Use promo code: 'transworld2018'


Book Now at
www.StLouisEscape.com
St Louis Escape is located approximately one mile from the convention center
at 1517 South 8th Street, St Louis, Missouri 63104

St Louis Escape features four different escape rooms including Runaway Subway, The Mummy, Haunted Hotel and The Cellar. Each escape rooms include special FX, Hollywood level detail, CGI FX, and amazing puzzles. St Louis Escape also features a party room, retro arcade machines, board games and much more. St Louis Escape will be open every day Monday thru Sunday for the Escape Room and Haunt Industry from 10 am until Midnight. We're also offering a BEHIND THE SCENES TOUR of all four of our escape rooms, party room and lobby. The Behind the Scenes tour includes The Darkness, Silo-X, Terror Visions 3D, Lemp Brewery Haunted House (Underground in Real Caves) and a lights on tour thru all of our escape rooms. You are allowed to take photos and video. Book the behind the scenes tour at http://hauntedhousetour.fearticket.com
March 22, 2018 (Thursday) - Behind the Scenes Tour
of Darkness, Silo-X, Terror Visions, St Louis Escape, and Lemp Brewery Haunted House. For one price you can go behind the scenes, take photos, video and more of the all-new Darkness Haunted house and even all of our Escape Rooms. Tours should start at Lemp Brewery 7pm from there you will head over to The Darkness where tours start at 7:30. This event is limited to the first 375 guests. This will totally SELL OUT!
BUY NOW CLICK HERE

Zombie Laser Tag Expertise
inside Silo-X next door to Darkness from 8 to 9:30pm.
Zombie Laser tag is located just behind the escape rooms. This will be the only night to experience
the zombie laser tag.

Book an escape room and play zombie laser tag on Friday March 23, 2018 from 8 pm until 9 pm.
CLICK HERE TO BOOK


March 24, 2018 (Saturday) - The Darkness with live actors

.
Experience Darkness, Terror Visions and Silo-X with live actors all for one price.
Event starts at 7 pm until 9:30 tickets are limited to the first 800 guests. You can also book
an escape room on Saturday and experience The Darkness Haunted House.

GET TICKETS NOW AT http://HauntedHouseTour.FearTicket.com

Tickets are cheaper if bought sooner than later. Ticket prices rise closer to the event. St Louis Escape was nearly booked out last year. Book now and use promo code to save 20%. Promo code will end soon. Book Escape Rooms at www.StLouisEscape.com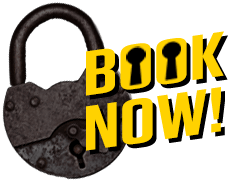 WATCH A VIDEO OF LAST YEARS Escape Room Behind the Scenes Tour